Engineering
It is a long established fact that a reader will be distracted by the readable content of a page when looking at its layout.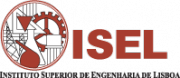 Lisbon Superior Engineering Institute  (ISEL) has resulted from the restructuring of an institution with a long-standing tradition in engineering teaching in Portugal, the Industrial Institute of Lisbon (Instituto Industrial de Lisboa), which was created in 1852. ISEL constitutes an example of a long tradition of engineering education. It is characterized by the intention to teach know-how, towards pedagogical practice within a criterion of constant curricula update.
The courses curricula are guided by learning concepts and methods, typically the students evaluation is based on laboratory projects followed by an oral discussion, and seminar presentations. This method privileges and foments student's ability to confront, in a creative and innovative way, identical problems as in professional life in engineering.
With Bologna reform, introduced at ISEL in the academic year of 2006/2007, the 5-year (1st + 2nd Cycle) courses where transformed into 3-years graduation courses, by which the graduates have their engineering degree (Graduation) and 2-year Master courses (Master degree). After completed successfully the 3+2 years curricula, conferring respectively the Graduation and Masters Degree, students are eligible for admission to research activities leading to a PhDl Degree.
Bachelor's Degrees

Biomedical Technologies
Civil Engineering
Chemical and Biological Engineering
Computer Science and Computer Engineering
Electronics, Telecommunications and Computer Engineering
Electrical Engineering
Informatics Networks and Telecommunications Engineering
Informatics and Multimedia Engineering
Mechanical Engineering
Mathematics Applied to Technology and Enterprise
Municipal Technologies and Management
Master's Degrees 
Biomedical Engineering  (in partnership with Lisbon School of Health Tecnhology) 
Civil Engineering
Chemical and Biological Engineering 
Computer Science and Computer Engineering
Communication Networks and Multimedia Engineering
Electronics and Telecommunications Engineering
Electrical Engineering
Industrial Engineering and Management

Informatics and Multimedia Engineering
Mechanical Engineering
Quality and Environmental Engineering