IPL
March 24th marks the National Students Day, this year with a very different way to celebrate. The initiatives once carried out on the streets have given way to digital platforms, where messages appealing for social isolation succeed. The Government marked the date with a letter from Manuel Heitor, minister of Science, Technology and Higher Education, addressed to Higher Education students.
The minister and its secretary of State, thank and praise the quick way in which the academic community has adapted to an "exceptional time" of e-learning, with the adoption of collaborative and distance learning environments by Higher Education Institutions.
In the letter, foreign students who chose Portuguese higher institutions, are not forgotten. Student associations are asked to ensure "that protection measures are also adopted by these colleagues in an environment of continuous warm welcome, which characterizes us so well".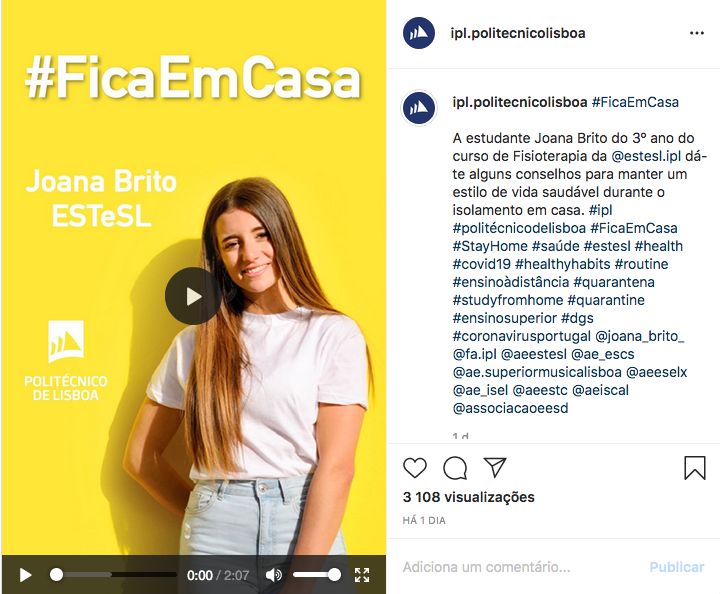 Recognizing the importance of keeping the academic community together and emotionally motivated, Politécnico de Lisboa has a social networks campaign with some videos, subtitled in english, recorded by students from each of its schools and higher institutes, in which they give advice and tips for students at home. Joining the #StayHome movement, this IPL campaign underscores the importance of maintaining routines in studies and maintaining physical activity.
National Students Day celebrates the struggle and homage to the difficulties and obstacles that students faced in the 60s academic crisis of. The date, celebrated since 1987, marks the strength that students have in fight for the right to Education and Freedom.
Texto de CSS/GCI IPL