IPL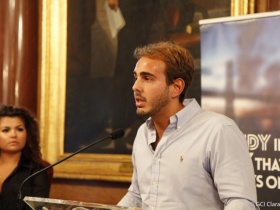 The italian student from Palermo, Giovanni Teresi, spoked to about 500 international students, during the welcoming session at Lisbon's City Hall, explaining the main reasons to pick the city to live an experience abroad and why School of Communication and Media Studies to continue his studies.
The session of 14th october, ended a week full of activities for international students, promoted by the platform Study in Lisbon. The city mayor, Fernando Medina, told the participants coming all around the world, that wants Lisbon to be their home. In its welcome speach, the mayor reinforced the idea that "Lisbon is a cosmopolitan city, open to all".
The welcoming week started the 10th october with several activities, workshops, bike tours, surf classes and many more.
Lisbon Polytechnic Pro presidente for cooperation and international student, Fernando Melício, and the Mobility staff (Grima) represented IPL and supported Giovanni Teresi at the event.