ENSINO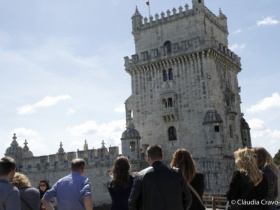 Twenty-five professionals from European higher education institutions were at the Instituto Politécnico de Lisboa International Week, that for the first time, happened under the Erasmus+ Programme international mobility frame. In this event, beyond staff, teachers also participated.
During five days, the participants got in touch with the mission, organization and structure of the IPL and its schools. They not only, had the opportunity to exchange experiences and good work practices, but also visited tourist spots in Lisbon and enjoyed the traditional portuguese dinner with fado performers.
Sara Albino, from Erasmus+ National Agency, presented, at the closing session, the new challenges of international mobility program. The European Policy Specialist noted that the labor market is changing. "In 2020 about 35% of all jobs will require high skills for innovation and adaptation", according to Sara Albino.
The International Week included several activities, including a workshop, where the participants met each other and presented the institutions they represent.
On the first day the foreign professionals learned Portuguese words and got to know a little of Portugal's history. There was also room for a brainstorming on the theme "Internalization of Higher Education - Trends and challenges", followed by a discussion on the subject.
Some of the participants presented projects of their universities. Paulina Judycka, from Poland, talked about "Erasmus Mundus Action 2 – IMPAKT Project"; Povilas Abarius, from Vilnius University on Lithuania, showed E-learning services. Adela Dedova, from Czech Republic, pointed the International Festival of Theatre School; and Beatriz Fernandez, from Univ. Castilla-La Mancha in Spain, exposed the "UCLM – Erasmus Mundus".
Text by Caroline Piccoli
Photos by Cláudia Cravo