IPL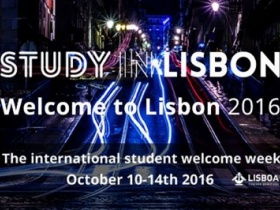 From 10 to 14th october Lisbon welcomes around 15.000 international Students, with a program designed around all the activities available in the city. This activity happens every year within the initiative "Lisbon Erasmus City", created to strengthen and internationalize Lisbon and to and attract and retain foreign students.
During the week, students can register in a wide number of events and new experiences and ways of knowing and feel the city, including a sailing trip, city rally, a walking tour, geo-caching and a visit to Cristo Rei statue, a welcome barbecue and many more. At the end of the week there will be an official international student reception that will take place in the City Hall at 6:30 pm. Students will be greeted by the Mayor, Fernando Medina, and listen to some student testimonies already studying in Lisbon.
With this initiative, the city hall intends to provide a remarkable experience, which will leave fond memories to those who choose to study in Lisbon.The Study in Lisbon partnership project, created in 2014 by the city of Lisbon with various partners, includin Lisbon Polytechnic, has developed a number of initiatives whose main objective is to attract more and more talent and foreign students to Lisbon and make the city a center of knowledge and innovation, with international recognition.
All of the activities are free and exclusively for international students in Lisbon, but you need to register in www.studyinlisbon.pt/welcome.