IPL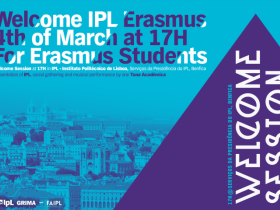 Present IPL and promote the integration of international students, within international mobility, are the main goals of the Erasmus welcoming session, managed by Grima IPL with FAIPL support, that is going to happen on 4th march at 5:pm at IPL's Presidency Services.
The Welcoming Session starts with the intervention of IPL's Vice-president and the Grima team, that will present the institution. IPL Academic Federation (FAIPL) is going to show several offers within their work in the acacemic community like sports activities. Finally, international students can see a Tuna Academica performance.
At the end of the Welcome Session, all the guests can socialize, and get to know better FAIPL and the Students Erasmus de Lisboa ESN Lisboa and ErasmusLife Lisboa, as well as Áhsrama Benfica, Yoga Center.
At the end of the day, Erasmus Students are invited to a Welcoming Party in Campus de Benfica P3, managed by FAIPL with the IPL Social Services support.