CLiC-IPL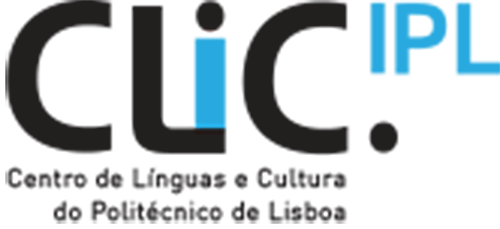 The  Centre for Languages and Culture (CLiC-IPL) at the Politécnico de Lisboa (IPL), is a unit inside IPL, without autonomous legal status, which was set up to give pedagogical, cultural and scientific support, and act as a service provider in specific areas. Its mission is to organize language courses to complement the curriculum offered by the institution and promote complementary cultural activities linked to departments within IPL.
CLiC-IPL will consolidate certain already existing practices, for example the teaching of Portuguese to foreign students at schools and institutes controlled by Lisbon School of Education, in coordination with GRIMA. The teaching of the language will be extended to include Portuguese habits and customs as a way to integrate foreign students into the country. This cultural component will also function in reverse, providing input to Portuguese ERASMUS students on the cultural habits of their country of destination. Thes courses will count on the participation of incoming students, teachers, and non-teachers at IPL.
CLiC-IPL seeks to diversify the language curriculum, in order to support the internationalization of IPL, whether by aiding Portuguese students on the Erasmus programme, offering certificate courses in English, which as the "língua franca" of science will attract students from all over the world, or providing certification through legal means based on non-certified knowledge of the language. There is also the possibility of developing a translation service for IPL documents and work by teaching staff submitted for international publication.
Courses will be open to the entire academic community – students, teachers and non-teaching staff.
Gradually they will be opened to a wider public.
Courses
New: Intensive language courses for international students, outgoing Erasmus programme, IPL community and general public
Timetable: 30 hours, 3 hours per day
Portuguese language course for incoming students on the Erasmus programme
Timetable: 40 hours, 4 hours per week, 4 Credits (ECTS)
Location: Lisbon School of Education
Intensive Portuguese language course for incoming students on the Erasmus progamme
Timetable: 40 hours, 4 hours per day, 4 Credits (ECTS)
Location: Lisbon School of Education
English language course for students, teachers and non-teaching staff
Timetable and location to be determined
CLIC-IPL
Monday - Friday
10:00-12:00
14:00-16:00
Contact:
The Director
Lucília-José Justino
zjustino@clic.ipl.pt
Secretary
Margarida Saraiva
msaraiva@clic.ipl.pt
General Enquiries
clic@clic.ipl.pt